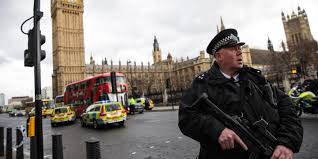 Following recent terrorists attacks in Manchester and London, is it not time for government to step up to the mark and put more effort into protecting the people of Britain? Holding candles and telling people to carry on as normal is not doing anything at all to ease the situation and as I am standing in this general election as a candidate for Poole, many people are quite rightly asking me what would I do… Well I would like to see far more being done, so here are my real thoughts on the matter!
With immediate effect arm all police officers with at least a sidearm. If they cannot protect themselves, how can they protect the people? Give them all shoot to kill orders in regards to any terrorist incident.
Arrest and detain anyone waving ISIS flags on our streets or openly promoting radical Islam.
Random raids on mosques and faith schools throughout the UK and any that are found to be even slightly involved in any form of terrorist activity or radicalising young British Muslims, should be shut down instantly.
The are 1000's of terrorist suspects already on the watch list here in the UK. Stop watching them, round them up and interrogate them using lie detector equipment. Any found to be radicalised need to be either deported or locked up immediately.
Ban the use of the term Islamophobia in all media, the word does nothing to help matters, it only helps the radicals to grow in numbers. Call it what it really is, Jihadiphobia and then we might actually see Muslim and Non-Muslim fighting together against a common enemy.
Immediately withdraw all support for the rebels in Syria and bring our troops home. We should have learned from Iran and Iraq that deposing Arab leaders does no good whatsoever!
As radical Islamist's are using their own interpretation of the Quran as an excuse for their own evilness, start using the Quran against them, show them where it clearly states that it is forbidden for them to settle in Kaffir lands. Then see how much they want to stick to their true beliefs.
Offer rewards for the successful conviction of those involved in any form of terrorism or radicalisation here in the UK.
There is so much that our government should have been doing but for whatever reason have chosen not to, it is now well overdue for the powers that be to start doing far more to combat this clear and present danger of terrorism. The first rule of government has to be the protection of the British people and I sincerely hope that the new government that will get elected on Thursday 8th June will put this at the top of the agenda, where it should be. We have to do all we possibly can to make our streets safe so that people can enjoy quality of life here in Britain and quite obviously at the moment, we simply are not doing enough. Time to get tough on terrorism!