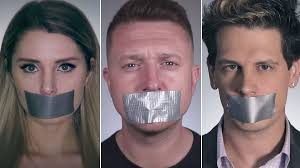 Some people are getting a little bit narked with me over my support for
Tommy Robinson
in regards to what I believe is unlawful imprisonment. Probably because unlike those shouting he deserved to go to prison I did actually endure the 1 hour 15 mins of his live feed (not even the judge who sentenced him did that) and to be honest it was quite boring but he was meticulous in ensuring he did nothing to break the law, he even kept checking with the police that was there and they confirmed he was not breaking the law…
However, I do think he will be released soon but I will explain why once he is out. The thing that is really annoying me from a lot of people shouting down Tommy is the sheer ignorance of what Tommy Robinson has been doing over the past 8 years, so here is a little refresher for those who obviously do not know…
Tommy Robinson had a family member that was groomed in Luton, he was only young at the time but decided he could not sit back and just do nothing about something that was so abhorrently wrong and it is a rapidly growing problem in this country, I am talking about the systematic rape of young children in Britain. So he founded the EDL and organised demonstrations to raise awareness of these grooming crimes but the media did not take on board what he was actually saying, instead they tried to silence him by saying he was a racist, a Nazi, a xenophobe, etc and the sheeple of this country, you know who you are, swallowed it hook line and sinker and then it didn't matter what he said, he was a racist as far as they were concenred so not worth listening to, think about that, someone is telling you young children are being raped and people don't want to know about it! Tommy was a young man who was trying to stop kids being raped and was shouted down for doing it. Of course, the real racists, Nazis, etc soon started to get involved with EDL as they believed the media nonsense as well and once it started to get out of hand, Tommy quit and decided to try a different approach, he got condemned for doing that as well! He initially went with Quillian but that didn't work out too well, then he later joined up with Rebel Media but I believe they tried to control him, so in the end, he went independent. The truth is from the minute he started campaigning to this moment today for Tommy it has always been about stopping kids being raped.
Now you would have thought that after the revelations of Rotherham, Rochdale, Huddersfield, Oxford, Telford, etc anyone with an IQ greater than that of a brick would realise that Tommy Robinson was actually right to protest about this all along but no, the sheeple still continued to swallow the media bullshit and continued to condemn him, whilst in the meantime kids continued to be gang-raped throughout the UK. Maybe if people had actually listened to what he was protesting about 8 years ago, a lot of pain and suffering of 1000's of British young girls could have been prevented. Unfortunately, there are far too many in this country who are only too happy to turn a blind eye to such atrocities and pretend they are not happening, then they amplify their shame by condemning and attacking Tommy Robinson who has been fighting to stop it all along. I personally find it truly astonishing that anyone with a brain can be more offended by someone trying to stop kids being groomed than they are about the fact those children are being gang-raped but I see sadly see that exact attitude from people on a daily basis.  
I do wonder what has happened to the backbone of the British people, the strength of conviction that helped Britain survive two world wars? God help us if there is ever another one because the Owen Jone's types of the UK and there seems to be an awful lot of them, will simply not cut it, whilst the ones who still have that True Brit Grit feeling about them probably already think those types are not worth saving… It now certainly seems to me that the deliberate dumbing down of British people has certainly taken its toll on many and sadly I already know that those Sheeple would not have read down this far anyway, the cant read anything that mentions Tommy Robinson more than once, which kind of shows they are truly broken beyond repair but if you did make it this far, then well done. Do please step outside the box for a moment and take a real look at what is happening to this country because if people do not wake up soon I do fear that Britain is not far from becoming just another chapter in the history books. 
I will leave the comments open on this one but if you are going to attack me over my support of Tommy Robinson then do make sure you have watched the live feed from outside the court on Friday May 25th, I'll even post it below for you, to save you having to search for it. If you can see where he did anything to justify first an arrest for a breach of the peace and then a charge of Contempt of Court, which got him convicted for 13 months, do please point it out because I must have missed it…
Marty Caine
Leader of Engage