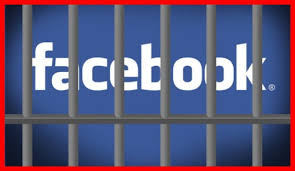 Well, I have seen many people thrown into Facebook Jail of late and in that past thought, they had not put a lot of thought into their choice of word when dealing with those who are quite obviously out to antagonise. However, on March 1st I had one such person, Sam Jayne Pearson (someone who I had previously banned because of her annoyance) who at around 6:30 am decided to do her usual snidey comments and I responded in similar fashion and even told her to have a nice day… however, that particular post got me thrown into Facebook for 24 hours.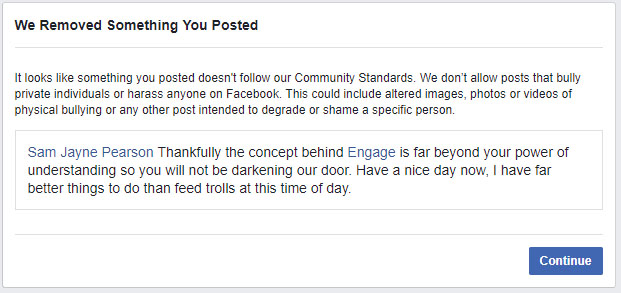 Yes, folks that is all I said to earn my 24-hour stay in Facebook jail and I for one see nothing whatsoever offensive in that, do you? I wasn't overly worried about a day away from Facebook because it does seem to be quite distractive and time-consuming at times and it allowed me to get on with far more important things but as leader of Engage Party (a registered UK political party) I do understand the importance of social media and it certainly gives myself and other members a great opportunity to Engage with others. This morning I went to log back into Facebook after serving my time in FBJail and low and behold I received another 3 day ban for something else I had said in that same conversation with Sam the Troll… Though admittedly I did point out she was making herself look an idiot, so maybe to the thought police at Facebook using the term 'Idiot' is now a bannable offence.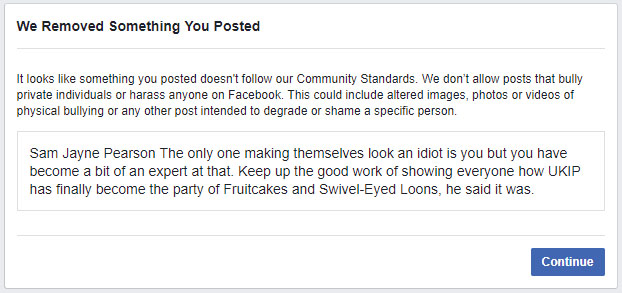 Two things that really concern me about this though, either Sam Jayne Pearson and her cronies have found a way to get those that do not agree with them banned from Facebook or she is actually involved with those imposing censorship in some way because she certainly seems free to abuse whoever she wants and then gets them banned. I saw this with Mark Childs of UKIP and this censorship, not just on Facebook, is something everyone needs to be concerned about. It is certainly a direct attack on free speech and is certainly encroaching on our legal rights to freedom of expression and I believe this is something that needs to be addressed before it gets totally out of hand.
What people like Sam Jayne Pearson fail to understand when they are doing their dirty little deeds is for me and many others, Facebook is not just a platform to voice political opinions, it has far greater entanglement into our everyday lives which are detrimentally affected by a ban. In my case, we have a family crisis on at the moment that involves myself and family members up in Oldham, we have a private Facebook group where we collate information to help us deal with this crisis and now I cannot contribute to that group because of the ban. My businesses have Facebook interactions, for example, Dorset Live promotes entertainment throughout Dorset and I will be unable to do so until this ban is over, my own Energy Entertainments will not be able to promote gigs this weekend, my web design company uses Facebook and I will also be restricted to contact others in a charity that I am involved with called the Pirates of Poole, that raises thousands for local charities. So well done Sam Jayne Pearson, you must now be really proud of your efforts.
Not only do their actions make it difficult for those banned it also has a detrimental effect on Facebook itself, a platform that has allowed me to stay in contact with friends all around the world but should it become a place where people have to walk on eggshells in fear of getting a ban for responding to a troll sarcastically, it will certainly kill something that has been an enjoyment for so many for a long time now. I had already created an alternative debate platform when I saw the censorship moves being pushed forward called the Peoples Debate Platform, where people can express their thoughts without fear of retribution for not conforming, I think it is important that we do get back to debating issues sensibly because that will get us back to learning from each other once again. Do take a look and register, it is open to all regardless of political leanings and hopefully, it will create some healthy debates that will open our eyes to a lot of the nonsense that is being fed to us all at the moment…
We can even debate 'Social Media Thought Police Censorship' on there without fear of being banned for doing so!
I urge everyone not to sit in silence on this matter because the longer we do nothing, the worse it will get and the harder it will be to rectify the problem!
Maybe a concerted effort to take Facebook to court for breach of Article 10 of the European Convention on Human Rights, our 'Right to Freedom of Expression' is worth thinking about?