Ever since Gina Miller took the Government to court and won, I have seen various hair brained ideas posted over social media to duplicate what Gina Miller did but in favour of Leaving the EU. Some say they will use the Magna Carta, others mention Vienna Convention and the best one to date is by Graham Moore, who says he will use Common Law, obviously not actually knowing what Common Law is. All of these cunning plans are of course absolute legal nonsense and would not get passed the first stages of going to court. So those getting behind these ideas, which I personally believe are nothing but scams to get people to donate money, really need to read this and then do some real research of their own before ever parting with money.
First of all the Magna Carta, there are only three parts of that still applicable in law today….
The right to trial by jury,
Rights of London
Rights of the church.
None of which have an baring whatsoever on our membership of the EU. Here is a very interesting article on the Magna Carta, which will explain it fully for everyone;
Written by Joshua Rozenberg who is one of Britain foremost commentators on British law.
Secondly the Vienna Convention (VCLT), The VCLT is not applicable to the EU as it is an International Organisation and this is why in 1986 the VCLTIO was introduced but unfortunately has still not been ratified and so is not in power yet, I believe it is still awaiting three signatures. So the Vienna Convention is not an option that can be used.
Thirdly, Graham Moore, self proclaimed leader of The Dragons and his plan for using Common Law to force a judicial review to void European Communications Act 1972. Ignoring the fact that it is not permissible to have judicial review of primary law (Acts of Parliament), which anyone with any basic legal knowledge will gladly clarify for you. This promotion of Common Law by the Dragons, is quite frankly hilarious, you will see them spamming Nigel Farage on LBC with 'Common Law, No Loss – No Harm – No Injury' which is actually legal nonsense in itself. I can only presume Graham Moore has Common law and Civil law mixed up as the latter is 'No blame without fault' the basic legal concept of Civil Law. Common Law is what is known as Judge Made Law, the law of precedents, where a judge will look at previous cases and form a judgement based on those precedents. Absolutely nothing at all to do with loss, Injury or harm. So when the Dragons keep on posting that nonsense they really are making themselves look very foolish to anyone with an ounce of legal knowledge, though should you try telling them that or challenging Graham Moore on the matter they will instantly block you. Try it and see by posting this blog to any Dragon and see what kind of response you get. After I had a couple of blocks from Dragons like Kevin Blackmoore and Chris Rumbold, I decided to challenge Graham Moore to a debate about a letter he was getting people to send on my own Facebook page, you can see the post here: Open challenge to Graham Moore and here is the actual letter… check out the date.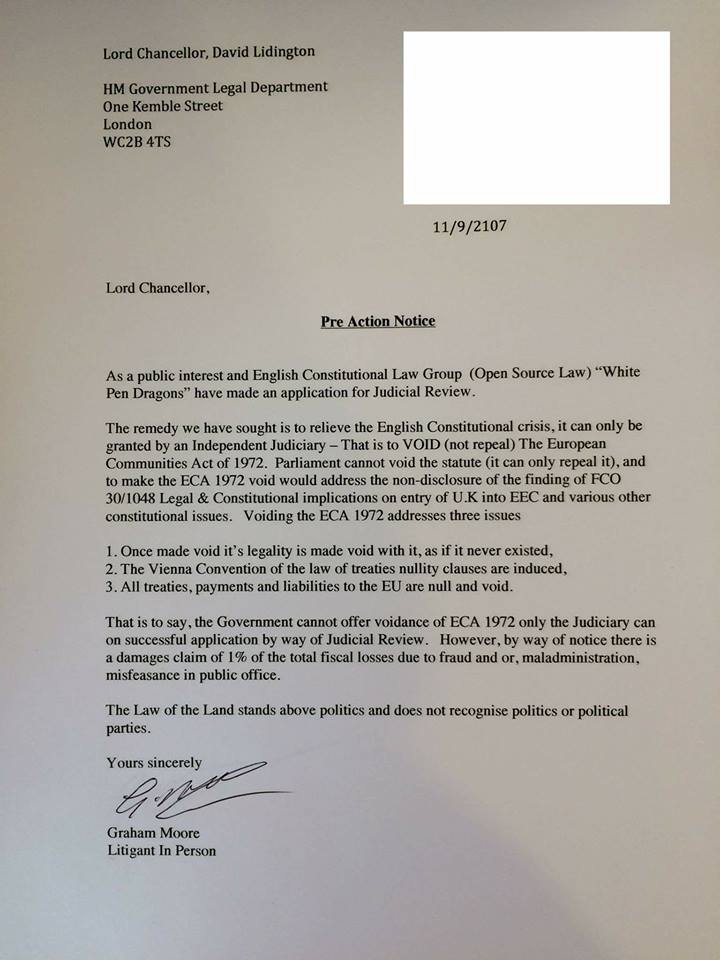 This letter has to be the finest example of legal illiteracy I have ever seen and it is completely legal nonsense as any solicitor will tell you. The worrying part is people actually believe it, they have swallowed it hook, line and sinker and by doing so they have convinced me and others that they are not Dragons, they are in fact Sheeple in Dragon clothing, nothing more or should that be Nothing Moore? One of my facebook friends Alun J. Elder-Brown, shared my post on his own Facebook page and simply said "Graham Moore… Please explain", his response was somewhat amusing and resulted in Graham Moore blocking Alun, for asking.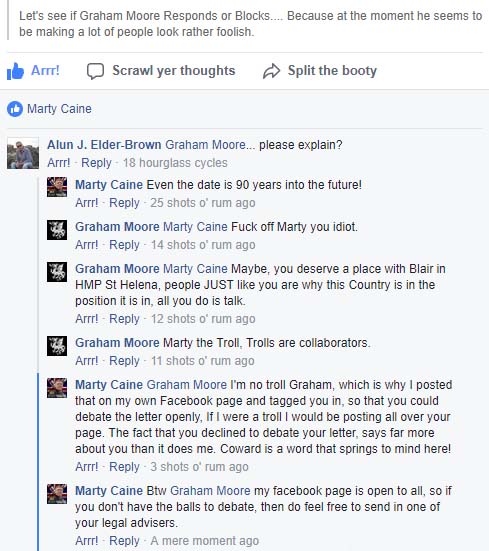 Apparently, he wants to build a prison on St Helena and send all traitors there and because I happen to know the law somewhat better than Graham Moore does (I am doing a Masters degree in Law) that makes me a traitor in the same league as Tony Blair. I am not sure if his insane response is down to the fact that he truly believes what he is saying or whether this is all one big scam but the fact that he refuses to debate with me on this, makes me lean toward the latter. Worryingly, what he fails to take on board here is the damage he could cause by doing this, the EU referendum awoke many people from the political comas they had been in for far too long and making people look foolish in this way could easily turn them off politics once again, also the Remainers will see the Dragons shouting this nonsense out as proof of just how gullible the leave voters are, though thankfully most seem to this for the nonsense it really is.
I don't expect anyone to take my word for anything that I have written here but I do hope it will encourage some to actually check out the facts for themselves and then let those promoting this 'Graham Moore judicial review' idea just what nonsense it really is. I honestly do not like to see anyone being taken for fools and it certainly seems that this is what Graham Moore is doing, he is of course more than welcome to debate our UK legal system with me at any time he wishes but so far he has declined to do so. He has now blocked me on both Facebook and Twitter…
I will let you make your own minds up as to why that is…..
The way I see things at the moment is, David Davis made an excellent speech in parliament where he categorically stated that we are leaving the EU, we are not staying in the Single Market nor the Customs Union and any Divorce Bill demanded by the EU will be scrutinised line by line and only anything that we have committed to already will be paid. Both Junker and Barnier have now conceded and both publicly stated that the UK will be leaving the EU, so the Tories are delivering on their promise to follow the will of the people and we are leaving. So the reality is there simply is nothing to take the government to court on at this moment in time and those of us outside, watching what happens can do very little to influence anything in regards to Brexit. It really is now out of our hands and we must concentrate and ensuring that there is a party to challenge the establishment in Britain after Brexit. This is what we are doing in DDIP and it is what all other political parties outside of government should be doing. The Brexit clock is ticking and Theresa May could walk away from those exit negotiations at any time between now and March 29th, 2019. I certainly do not relish the idea of a two-party state once we finally do leave….
And so the misconceptions of law saga continues…… 
Today (21st September 2017) I have received a letter from Graham Harry Moore, sent recorded delivery and apparently it is a 'Pre Action Notice' which I am presuming he means a 'Pre Action Protocol' which is the correct legal term but it once again is a load of nonsense trying to look like a legal document. Unfortunately for Mr Moore the mistakes made in his letter has actually made it look far more like an extortion letter, the three points he is asking for are;
Remove this blog post
Publically (his spelling not mine) apologise on the same medium
Pay damages of £100,000 
And apparently I have 14 days in which to do this. Well Mr Graham Harry Moore, I did give you ample opportunity to debate with me on the law,  I do happen to be doing a Masters Degree in Law and know for a fact that there can be no judicial review of an Act of Parliament. Once a Bill has passed through Parliament, the House of Lords and received Royal Assent, it then becomes Statute law and can only be repealed. Pretty basic law stuff really and anyone can check this by simply searching on Google for 'Judicial Review of an Act of Parliament'. 
Defamation law is an extremely difficult case to prove because you don't have to prove that a person was untruthful in what they have stated, you have to prove that the person did not believe what has been stated is untruthful and this is where defamation gets pretty difficult, especially when the evidence is clearly there for all to see. So by all means Graham Harry Moore, press ahead with your legal action, as I am in no doubts that the declaratory judgement on this will most certainly be in my favour.
I strongly advise everyone that before ever sending out threatening letters to anyone, that they seek legal advice before doing so because, especially when demanding such extortionate amounts of money…
The offence of blackmail is actually a criminal offence not a civil offence, as set out in s.21 Theft Act 1968. Under the Act, blackmail consists of making an unwarranted demand with menaces with a view to making a gain or causing a loss. By s.21(3) Theft Act 1968, the maximum sentence for blackmail is 14 years.
Update: 27/10/2017
Here is a little bit of information I found that I think all Dragons should take a read of. It will explain the origins of 'Lawful Rebellion' and how successful and unsuccessful it has been in the courts by those foolish enough to believe that the Magna Carta has any legal bearing whatsoever in a modern-day legal system.
https://rationalwiki.org/wiki/Freeman_on_the_land
By the way, it is nice to see some former Dragons, now thanking me for pointing out the truth…